Near East University Hospital was built in 2010 on the basis of a private hospitaland provides 54 departments using the latest technology equipment at standards that exceed those found in Europe.
The aim is to remove the need for Turkish Cypriots to seek medical assistance abroad as well as to attract foreign individuals to North Cyprus by providing health services with a distinguished medical staff.
Near East University Hospital, located on the Near East University Campus in Nicosia with 55,000 square metres of closed space, is comprised of three blocks with three, four and nine stories respectively, and provides health services through 209 individual patients' room (22 being VIP rooms), 8 operating theatres, 30 intensive care units and 17 newborn intensive care units.
We offerhigh quality polyclinic services along with analytical laboratories that allowall health-related tests to be performed, a Radiology Centre with the latest and most advanced imaging devices for diagnosis, a Nuclear Medicine and Radiotherapy Centre specifically designed for diagnosing and treating cancer cases, and 84 completely digitised physician examination rooms.
Founded on international standards and in accordance with the accreditation of the "Joint Commission International" (JCI), the hospital providesservices for patients' medical and other needs in line with these standards and criteria.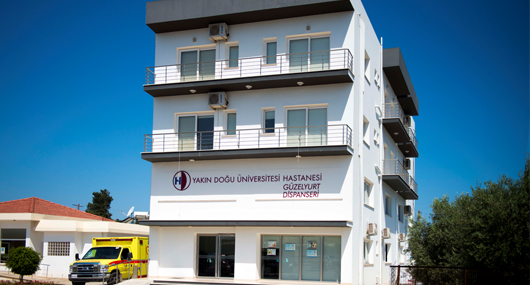 Ecevit Str. Next to the Bus
Terminal, Güzelyurt
+90 392 675 10 76
+90 548 853 09 29
Extension: 2470