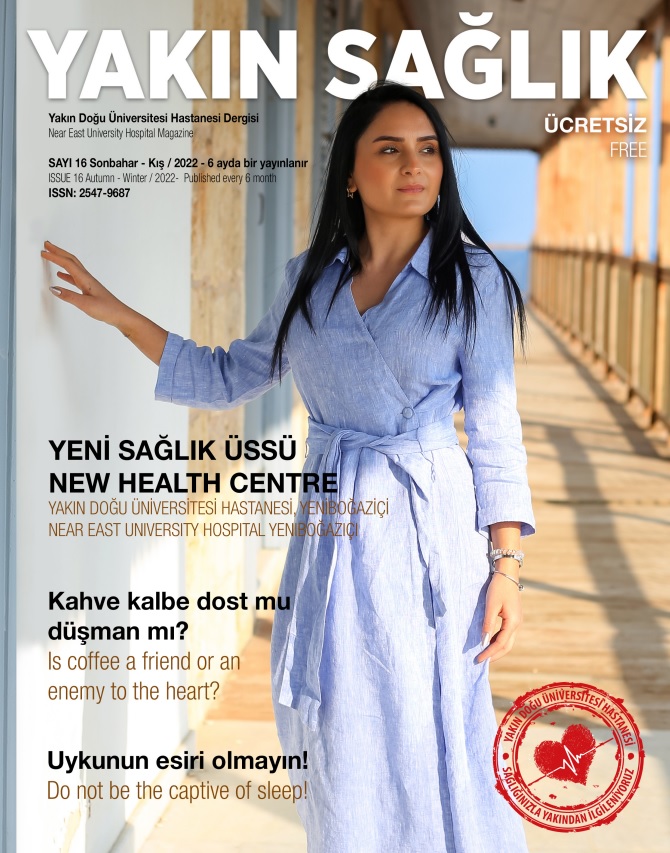 The 16th issue of Near East University Hospital's "Near Health" magazine, which brings together the latest innovations in the medical world, the most up-to-date information on health, treatment methods and healthy lifestyle suggestions that will make your life easier, has been published.
The magazine, which carries the Near East University Hospital, which was opened in Yeniboğaziçi last week, with the title "New Health Base" on its cover, also offers entertaining content to its readers with its culture, art, automobile and travel pages.
In the sixteenth issue, the magazine, which is published semi-annually in Turkish and English, guides its readers for a healthy life on many subjects such as the risk of rubella in children, major depression, dependent personality disorder, menorrhagia, obesity, increased daytime sleepiness, the effect of coffee consumption on the heart, and fear of the dentist in children.
Highlights from the magazine…
Many topics are covered in the 16th issue of "Near Health". While Near East University Hospital Psychiatrist Dr. Burak Akdöner's article on the risks of seasonal changes in mood disorders such as major depression and bipolar disorder comes to the fore, Specialist Clinical Psychologist Tuğçe Denizgil Evre examines the subject of dependent personality disorder.
Assist. Prof. Dr. Ferdiye Küçük gives tips on how to overcome the fear of the dentist that can be seen in children.
In the culture, arts, automobile and travel sections of the magazine, Hollywood's star cars that appeared in cult films such as "Batman Begins" and "The Dark Knight" and "Fast and the Furious" and exhibited at the Cyprus Car Museum, founded by the Near East Enterprises, and the Karpas Peninsula are reviewed.
It is also possible to read the Near Health Magazine, which is free to its readers, on the website of the Near East University Hospital.