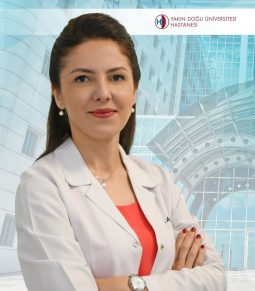 Eğitim
2002-2005: Lisans, Tıp Fakültesi - Çukurova Üniversitesi
2005-2008: Kahramanmaraş Sütçü İmam Üniversitesi
2009-2014: Doktora/S.Yeterlik/ Tıpta Uzmanlık, Göğüs Hastalıkları - Gazi Üniversitesi Tıp Fakültesi
2017-2018: Yardımcı Doçent Göğüs Hastalıkları Ufuk Üniversitesi Tıp Fakültesi
Deneyim
2008-2009: Pratisyen Hekim, Adana Karaisalı Devlet Hastanesi, Acil Servis
2009-2014: Asistan Doktor, Gazi Üniversitesi Tıp Fakültesi Göğüs Hastalıkları ABD
2014-2016: Uzman Doktor, Osmaniye Devlet Hastanesi (zorunlu hizmet)
2016-2018: Yardımcı Doçent, Ufuk Üniversitesi Tıp Fakültesi, Göğüs Hastalıkları ABD
2018-2020: Uzman Doktor, Girne Doktor Akçiçek Devlet Hastanesi
2020- :Uzman Doktor, Yakın Doğu Üniversitesi Tıp Fakültesi, Göğüs Hastalıkları
ESERLER:
Uluslararası Dergilerde Yayınlanmış Eserler
Gul Gursel, Muge Aydogdu, Secil Tasyurek, Gazi Gulbas, Sevket Ozkaya, Sakine Nazik, Ayse Demir. Factors Associated With Noninvasive Ventilation Response In The First Day Of Therapy In Patients With Hypercapnic Respiratory Failure. Annals of Thoracic Medicine 2012;7:2.
Ayse Baha, I Kivilcim Oguzulgen. Pulmonary Involvement of Inflammatory Bowel Disease. Shortness of Breath 2013;2(4):184-189.
Ayse Baha, Cigdem Hanazay, Nurdan Kokturk, Haluk Turktas. A Case of Sarcoidosis Associated With Anti–Tumor Necrosis Factor Treatment. Journal of Investigative Medicine High Impact Case Reports 2015: 1–5.
Fatma Yıldırım, Ayse Baha, Ahmet Selim Yurdakul, Can Ozturk.Comparison of Single Agent Gemcitabine and Docetaxel in Second-Line Therapy for Advanced Stage Non-Small Cell Lung Cancer in a University Hospital in Turkey. Asian Pac J Cancer Prev, 2015;16(17):7859-65.
Ayse Baha, Fatma Yildirim, Nurdan Kokturk, Umit Ozgur Akdemir, Sedat Demircan, Haluk Turktas. 18F-FDG uptake in focal organising pneumonia mimicking bronchial carcinoma. Clin Respir J 2016; 10(6):740-5.
Kokturk N, Kilic H, Baha A, Lee SD, Jones PW. Sex Difference in Chronic Obstructive Lung Disease. Does it Matter? A Concise Review. COPD. 2016;13(6):799-806.
Baha A, Mehmet Baha R, Eroglu V, Logoglu A, Kemal Icen Y.Massive Pulmonary Embolism Following Varicose Vein Surgery That Was Successfully Treated with Thrombolytic Therapy.Intern Med. 2016;55(14):1907-10.
Kokturk Nurdan, Baha Ayse, Oh Yeon-Mok, Jung Young Ju, Jones W Paul. Vitamin D Deficiency. What does it mean for Chronic Obstructive Pulmonary Disease (COPD)? A Concise Review for Pulmonologists. Clin Respir J 2017;1-15.
Nalan Ogan, Ayse Baha, Handan Dogan, Egemen Akincioglu, Haldun Umudum, Tevfik Kaplan, Meral Gulhan. Pseudomesoteliomatous Adenocarcinoma with Three Cases. MOJ Clin Med Case Rep 2017;6(5):00174.
Nalan Ogan, Eylem Akpınar, Ayşe Baha, Serdar Han, Haldun Umudum. Two Cases of a Rare Disease: Diffuse Idiopathic Neuroendocrine Cell Hyperplasia. Eurasian J Pulmonol 2018;20:167-170. DOI: 10.4103/ejop_66_18.
Ayşe Baha, Fatma Yıldırım , Nurdan Köktürk, Züleyha Galata , Nalan Akyürek, Nilgün Yılmaz Demirci, Haluk Türktaş. Cryptogenic and Secondary Organizing Pneumonia: Clinical Presentation, Radiological and Laboratory Findings, Treatment, and Prognosis in 56 Cases. Turk Thorac J 2018;19(4):201-8. DOI: 10.5152/TurkThoracJ.2018.18008
Baha A, Yıldırım F, Stark M, et al. Is Induced Sputum a Useful Noninvasive Tool in Diagnosis of Pulmonary Sarcoidosis? Turk Thorac J 2019;20(4):248-252. doi: 10.5152/TurkThoracJ.2018.180147.
Baha A, Ogan N, Akpinar EE, Ateş C, Gülhan M. The Course of Renal Functions in COPD. Two Statition: Exacerbation and Stable Period. Eurasian J Pulmonol 2019;21:63-8.
Ogan N, Aydemir Y, Evrin T, Atac GK, Baha A, Katipoglu B, Süzen B, Akpinar EE.Diaphragmatic thickness in chronic obstructive lung disease and relationship with clinical severity parameters. Turk J Med Sci 2019;49: 1073-1078.
Akpınar EE, Hoşgün D,Akpınar S, Ateş C,Baha A, Gülensoy ES, Ogan N. Do N-terminal pro-brain natriuretic peptide levels determine the prognosis of community acquired pneumonia? J Bras Pneumol. 2019;45(4):e20180417
Ogan N, Baha A, Coskun O, Akpinar EE. Use of and Awareness about Electronic Cigarette among Medical School Students. EJMO 2019;3(1):6–13.
Nalan Ogan, Ersin Günay, Ayşe Baha, Esen Sayın Gülensoy, Evrim Eylem Akpınar. Are Red Blood Cell Distribution Width and RDW/ Hemoglobin Ratio Predictable in Mortality Among Patients with Chronic Obstructive Pulmonary Disease? Erciyes Med J 2019; 41(4): 385–9. DOI: 10.14744/etd.2019.10270.
Nalan OGAN, Ayşe BAHA, Ebru ÖZAN SANHAL, Aslıhan ALHAN,Meral GÜLHAN. Incidental pulmonary nodule frequency in Turkey. Tuberk Toraks 2019;67(3):190-196. Doi: 10.5578/tt.68532.
Ogan N, Ozer PA, Kocamaz MF, Akpinar EE, Baha A, Gulensoy ES. Short-term variations of optic coherence tomography findings in mild and severe chronic obstructive pulmonary disease.Eye (Lond). 2019 Oct 4. doi: 10.1038/s41433-019-0613-x.
Nalan Ogan, FatmaYıldırım, Banu Süzen, Ayşe Baha, Evrim Eylem Akpınar. Does Nutritional Risk Screening 2002 Correlate with Dyspnea Status of Patients with GOLD Stage C-D Chronic Obstructive Pulmonary Disease? Turk Thorac 2020;21:49-53. DOI: 10.5152/TurkThoracJ.2019.180194.
Baha A, Kokturk N, Bahcecioglu SN, Yapar D, Aksakal N, Gündüz C, Tasbakan S, Sayiner A, Coskun AS, Durmaz F, Cilli A, Celenk B, Kılınc O, Salman S, Hazar A, Tokgoz F. The effect of inhaled corticosteroids in the outcomes of community-acquired pneumonia: ICCAP study (TURKCAP Database). Clin Respir J. 2020 Apr;14(4):397-404. doi: 10.1111/crj.13145
Ogan N, Gunay E, Ekici B, Baha A, Gulensoy ES, Akpinar EE, Yuksel A. Morphological overview of cardiovascular comorbidities in chronic obstructive pulmonary disease: Frank's sign. Heart Lung. 2020 Feb 12. pii: S0147-9563(20)30008-X. doi: 10.1016/j.hrtlng.2020.01.008.
Uluslal hakemli dergilerde yayımlanan makaleler
Oguz Kokturk, Ayse Baha, Asiye Kanbay. A new approach in the diagnosis of upper airways resistance syndrome (UARS): PAP method. Tuberk Toraks 2015;63(1):31-36.
Ayşe Baha, Nurdan Köktürk, Haluk Türktaş, Nalan Akyürek, Numan Ekim. Kikuchi-Fujimoto Hastalığı:Bir Olgu Nedeniyle. Respiratory Case Reports 2013;2(3):89-94.
Ayşe Baha, Tuğba Körlü, Nurdan Köktürk, Haluk Türktaş. Trakeobronkopatia Osteokondroplastika: İki Olgu Nedeniyle. Respir Case Rep 2014;3(1):1-5.
Neşe Dursunoğlu, Nurdan Köktürk, Ayşe Baha, Ahmet Kaya Bilge, Şermin Börekçi, Fatma Çiftçi, et al. Comorbidities and their impact on chronic obstructive pulmonary disease. Tuberk Toraks 2016;64(4):289-298.
Ayşe Baha, Reşat Mehmet Baha, İbrahim Yıldız. Prasugrel Kullanırken Trombolitik Tedavi Uygulanan Masif Pulmoner Emboli Olgusu. Respir Case Rep 2017;6(3):149-152. DOI: 10.5505/respircase.2017.65002
Nalan Ogan, Ayşe Baha. Geriatrik Olgularda Uyku Bozuklukları. Turkiye Klinikleri J Pulm Med-Special Topics 2017;10(3):215-22.
Nalan Ogan, Ayse Baha, Egemen Akıncıoğlu, Tevfik Kaplan, Handan Doğan, Meral Gülhan. Coexistence of Three Malignancies: Two Different Lung Cancers Synchronus with Lymphoma. Turk J Oncol. 2017;32(3):120-2.
Aydoğdu M, Hanazay Ç, Aldağ, Y, Baha A, Bilgin S, Gürsel G. Effects of Atrial Fibrillation on Intensive Care Unit Outcomes in Patients with Respiratory Failure.Turkish Journal of Medical & Surgical Intensive Care Medicine 2017;8(2):32-8.
Ayşe Baha, Berkay Ekici, Nalan Ogan, Eylem Akpınar. A Case of Sjögren's Syndrome-Related Pulmonary Arterial Hypertension Treated with Iloprost and Bosentan Combination Therapy. Respir Case Rep 2018;7(2):59-62 DOI: 10.5505/respircase.2018.78557.
Ayşe Baha, Nalan Ogan, Eylem Akpınar. Tıp Fakültesi Öğrencilerinde Nikotin Bağımlılığının ve Kamu Spotu Reklamlarına Olan Tutumlarının Değerlendirilmesi. Bağımlılık Dergisi – Journal of Dependence | 2018; 19(3):45-50.
Nalan Ogan, Refah Sayın, Ayşe Baha, Evrim Eylem Akpınar, Meral Gülhan. The incidence of polyneuropthy and its relation with disease parameters in chronic obstructive pulmonary disease. The European Research Journal 2019;5(1):77-82. DOI: 10.18621/eurj.367066.
Türk Toraks Derneği (2003 yılından bu yana)
Türkiye Solunum Araştırmaları Derneği (2003 yılından bu yana)
European Respiratory Society (20011 yılından bu yana)
2014-2016 yılları arasında Osmaniye İli İl Tütün Kontrol Komitesi Üyeliği
2015-2016 yıllarında Kronik Solunum Hastalıklarına Karşı Küresel İşbirliği(GARD) Osmaniye İl Komitesi Üyeliği
Türk Toraks Derneği KOAH Çalışma Grubu Üyeliği (2011'den bu yana)
Türk Toraks Derneği KOAH Çalışma Grubu Yürütme Kurulu Üyeliği (Nisan 2018'den bu yana)