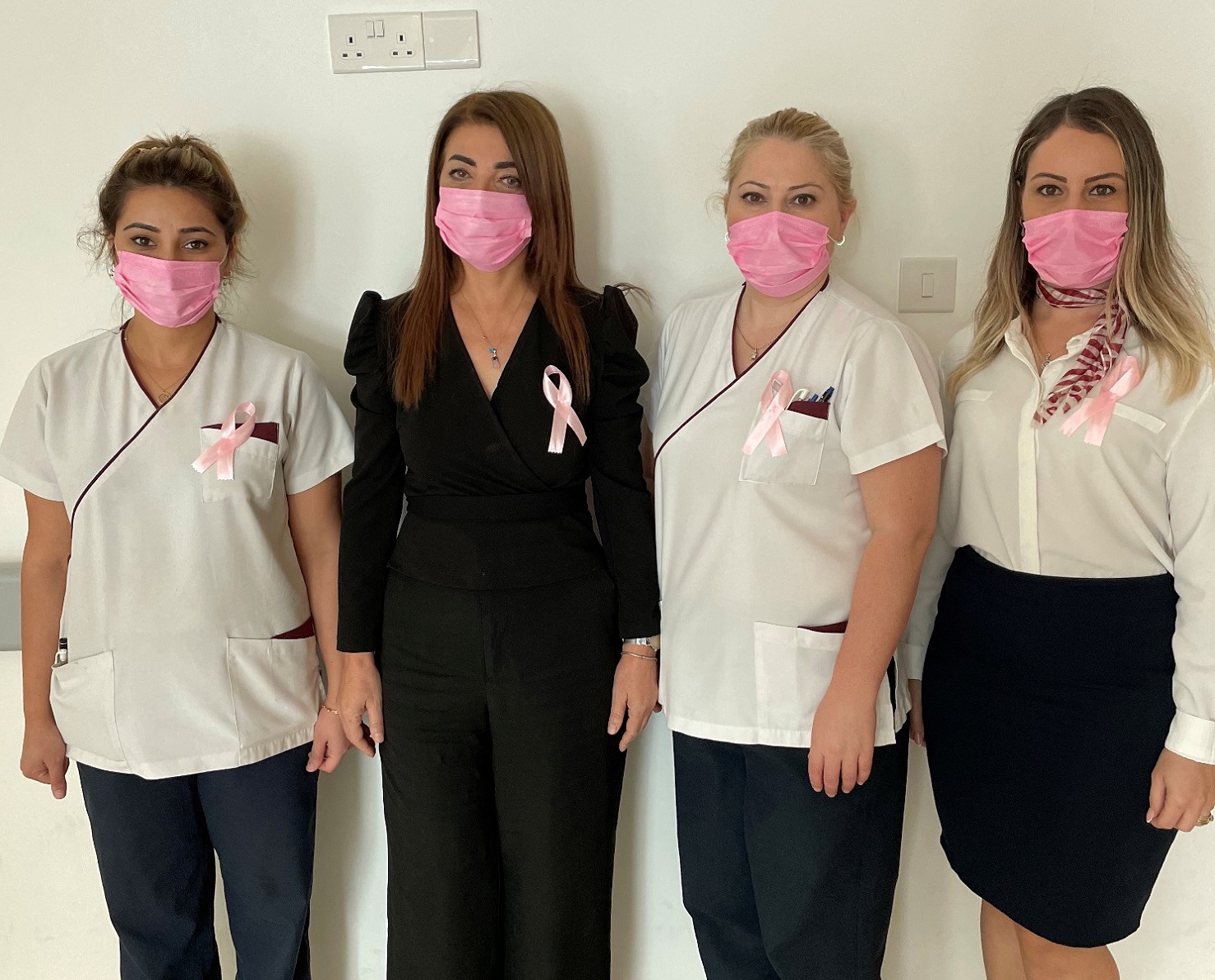 Although rare, breast cancer, which can also be seen in men, is seen in one out of every 8 women. Awareness is the most effective way to prevent breast cancer, where early diagnosis saves lives!
Breast cancer, which is the most common type of cancer in women, can develop in one of every 8 women at some point in her life. This rate is almost 12 percent of female population. Being aware of the symptoms of breast cancer, regular check-ups and early diagnosis are the most important life-saving factors. For this reason, many events are organized in October every year to raise awareness about breast cancer. Near East University Hospital employees also served with pink ribbons throughout the day to raise awareness on October 26, which is considered the "Pink Ribbon Day".
Near East University Hospital General Surgery Department and Breast Health Center Head Prof. Dr. Hasan Besim also emphasized the importance of regular check-ups in order to prevent breast cancer, and listed what should be done to prevent breast cancer.
In addition to cancer, many diseases can be seen in the breast tissue
Stating that many breast-related diseases and complaints can occur apart from cancer, Prof. Dr. Hasan Besim pointed out that the breast has been seen as a symbol of sexuality for centuries, as well as an extremely important organ in terms of feeding the newborn. Mentioning that various changes that may develop in the breast tissue every month in relation to hormonal changes, especially in adult women, may cause certain complaints. Prof. Dr. Hasan Besim said that many diseases such as non-cancer, infectious pathologies, developmental anomalies or variations can be seen in the breast tissue. Prof. Dr. Besim emphasizing that for this reason, the necessity of a treatment center focused on breasts is inevitable, reminded that the Breast Health Center within the Near East University Hospital continues its activities with this approach.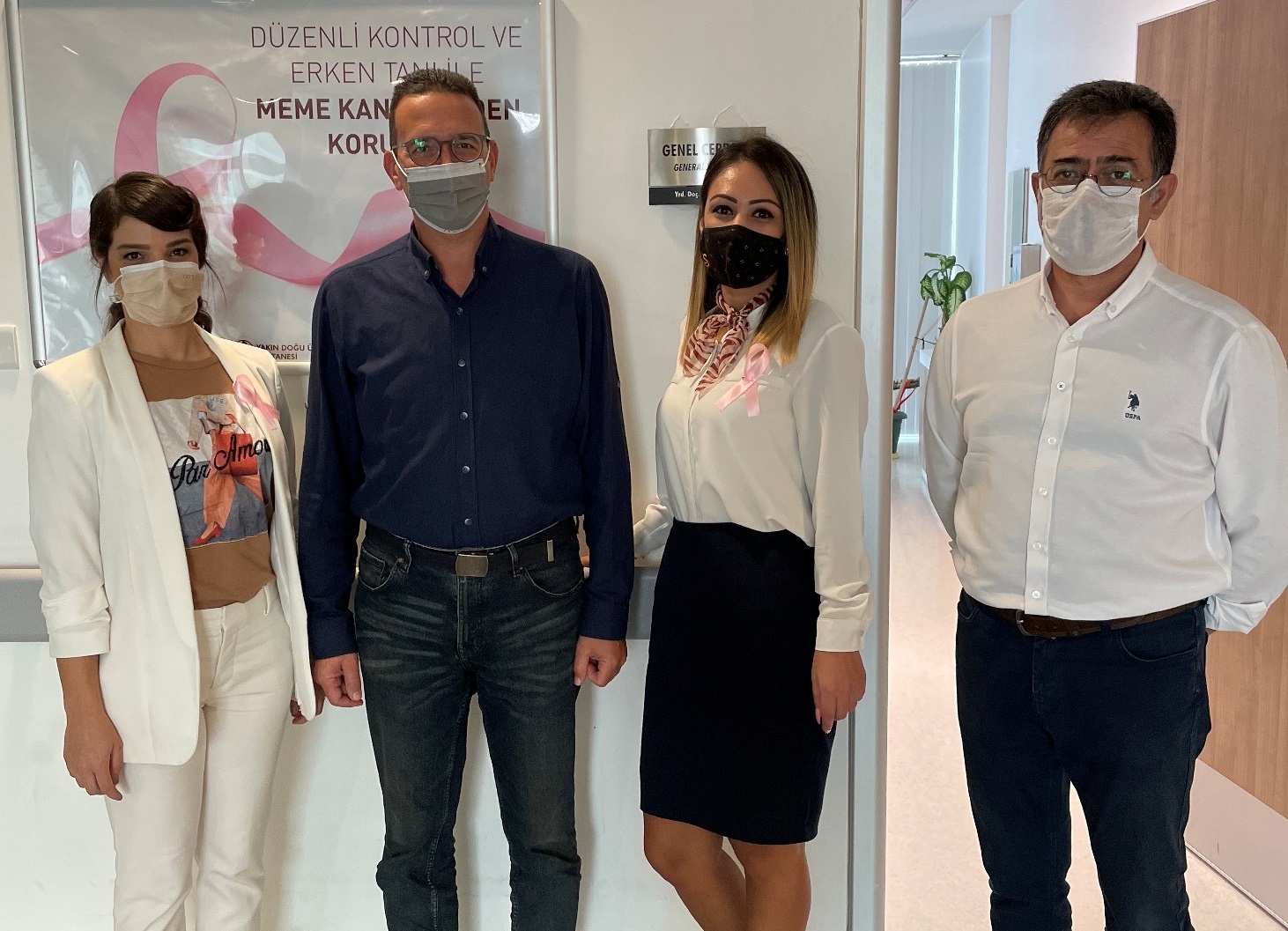 Pay attention to the effective risk factors in breast cancer!
Pointing to the existence of many risk factors for breast cancer, Prof. Dr. Hasan Besim said, "Some of these risk factors are the ones we cannot avoid, unfortunately. For example, it is unfortunately not possible to change various risk factors such as gender, age, having a close relative with breast cancer in the family, or genetic characteristics. However, there are some preventable risk factors such as obesity, excessive alcohol use, and various hormones. Prof. Dr. Besim also said "Having any of these risk factors does not necessarily mean that you will develop breast cancer."
Are you in the risk group for breast cancer?
Pointing out that the answers to some questions are important in order to decide whether you are in an increased risk group for breast cancer, Prof. Dr. Hasan Besim listed these questions as follows: Have you been diagnosed with breast cancer before and have you been treated? Does your mother, sister or daughter have breast cancer and/or ovarian cancer? Are you obese? Have you previously received radiotherapy to your chest area for various reasons? Did you start menstruating before the age of 12? Did you enter menopause after age 55? Is your first pregnancy after 30? Have you ever had children? Do you drink more than two glasses of alcohol each day? Have you used hormone replacement therapy for many years?
Expressing that it is possible to extend this list further, Prof. Dr. Hasan Besim finally said; "However, if you answer "yes" to one or more of the above questions, you have a higher than normal risk of breast cancer. In this case, there is no need to panic. However, it is recommended that you first get to know your body, learn about breast self-examination and apply it once a month, and have annual breast checks at a good center. It should not be forgotten that early diagnosis in breast cancer is very easy and treatment is much more satisfactory in early-diagnosed breast cancers."
Breast Health Center meets a great need
The Breast Health Center, which was established within the Near East University Hospital and has been serving since May 2014, carries out the diagnosis and treatment, follow-up of all breast-related diseases in our country, and breast controls of healthy women. Regarding the center, Prof. Dr. Hasan Besim said, "Another purpose in the establishment of the center is to ensure that women living in Cyprus are informed and raise awareness about breast health, and to make it possible for women in our country to easily access the multidisciplinary care opportunity provided by specialist physicians in their own countries for breast problems. In a problem related to the breast, it is the priority of the center to carry out the diagnosis and treatment processes by a team focused on this field instead of a single physician, and to benefit from advanced technical facilities in this process."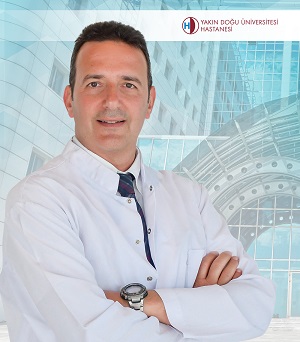 How is breast cancer diagnosed and treated?
Prof. Dr. Hasan Besim stated that screening programs for breast health are organized regularly in the center and all patient data are recorded both electronically and in writing. In particular, the diagnosis, treatment and follow-up procedures of breast cancer cases are carried out by a multidisciplinary and expert team consisting of Surgery, Diagnostic and Interventional Radiology, Pathology, Plastic Surgery, Radiation Oncology and Medical Oncology specialists.
In the center where Digital Mammography (MMG), Ultrasonography (USG), Color Doppler Ultrasonography (RDUS), 1.5 and 3.0 Tesla Magnetic Resonance (MR) and Tomosynthesis facilities are available as imaging infrastructure, and USG guided core and fine needle biopsy/aspiration are processed when necessary. Stating that there is also the "Breast Lesion Excision System (BLES)" infrastructure, Prof. Dr. Hasan Besim stated that in the center advanced treatment procedures such as stereotactic biopsy procedures, which enable the removal of small breast lesions that are not detected in the examination by radiological methods, and breast-conserving surgery and sentinel lymph node biopsy, which are used in current breast cancer treatment, can be performed. He also added that in appropriate cases, tissue expanders, implants or flap applications after mastectomy, reconstruction and aesthetic interventions (Oncoplastic Surgery) can be performed simultaneously and sequentially with Plastic Surgery specialists.