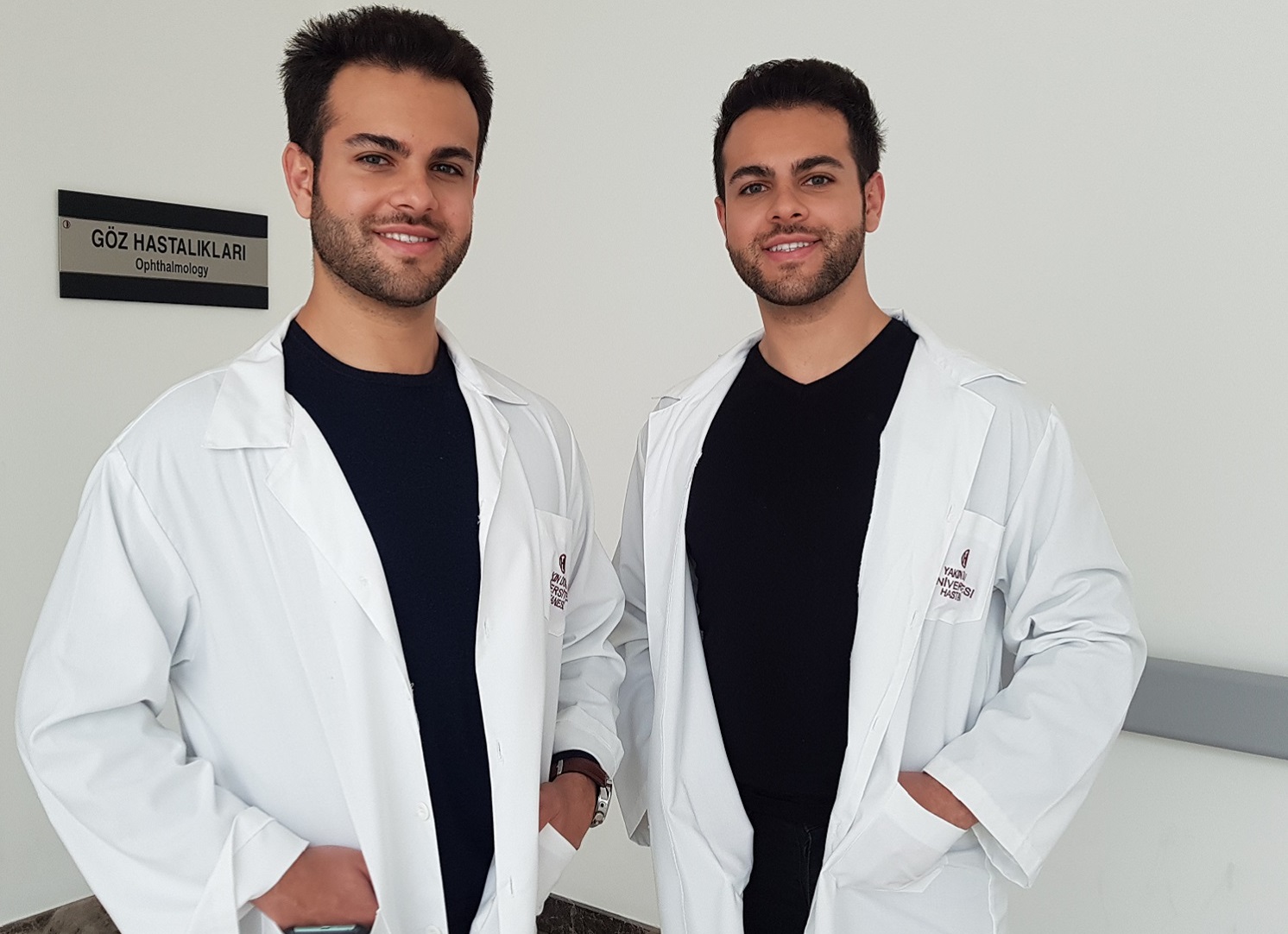 The identical twin brothers Cahit and Ziya Burke studied at the same schools for years and dreamed of becoming doctors together. After becoming physicians, both chose to specialize in eye diseases. Now, they work together at the same hospital, in the same polyclinic.
The brothers Cahit and Ziya Burke, who started working at the Near East University Hospital, draw attention with their interesting stories as well as their success in their fields. Cypriot identical twin ophthalmologists, who have not separated from each other throughout their lives, continue to care for patients at the same hospital in the same clinic.
Born in 1991 in the village of Akçay in Güzelyurt, identical twins Cahit and Ziya Burke shared the same ranks at the university after primary and secondary education and became physicians. Both of them became interested in ophthalmology because of the eye problem they had at an early age. They made their career plans inspired by this. Today, they are both ophthalmologists in love with their profession.
We left only during our specialization period
Dr. Cahit Burke describes the process of becoming an ophthalmologist as follows; "We went to primary school and college together with my brother, educated at the same schools at the same time. We dreamed of becoming doctors together. We both got accepted to the Cerrahpaşa Medical Faculty. We went to Istanbul together. From the beginning, our reason for choosing a medical school was to be an ophthalmologist. We both got good marks in the TUS exam. We broke up only in the years when we had specialist training. Now we are together in the same hospital."
Cahit and Ziya Burke have enjoyed their education life together and now working in the same institution today. Dr. Cahit Burke saying "It is better and more enjoyable for us", stated that they support each other in both clinical patients and surgeries and consult each other about patients.
We returned in order to serve our country
Dr. Cahit Burke said that patients may have difficulty in making out the difference between him and his brother and that they can sometimes examine each other's patients. "We have completed our specialization studies in different institutions. A patient diagnosed with cataract at Haseki Hospital came to the hospital where I worked for a second opinion. When he opened the door and saw me, he quickly went out and said, "Sorry, I came to you again, but actually I wanted to have my treatment approved by a different physician." It turned out that it was my brother who made the diagnosis first.
Dr. Ziya Burke states that they are quite similar in both character and hobbies: "We both love the academic environment. We both play the piano. We like the same sports."
Saying that serving their country is the most important factor that makes them happy in their decision to return to Cyprus, Cahit and Ziya Burke especially want to specialize in retina and oculoplastics. He explains that they preferred the Near East University Hospital due to the opportunities it provides to its patients and physicians and the advantages of being a university hospital.